Skipper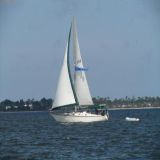 Joined: 13 Feb 2011 21:19
Posts: 270
Location: Canyon Lake, TX
Clean, clean, CLEAN the stud on the throttle. Then spray some Corrosion-X or PB blaster on the nut. Let it stand for a day or so. Then try to remove the nut.

I was going to do this and pull the old o-ring out and replace it BUT....

I sheared the shaft and ended up having to pull the pump and send it in.

Your luck may vary.

_________________
Wayne
Master and Commander of the Sailing Vessel

Impetuous


Rider of

Waleli

Honda 1800 VTX
Subservient to no man except

SWMBO


Any day without dock lines is a GOOD day!