Skipper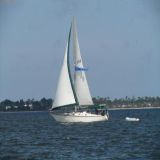 Joined: 13 Feb 2011 21:19
Posts: 319
Location: Canyon Lake, TX
Getting ready for our annual pilgrimage to Florida. Revarnishing the toerails. Replacing holding tank pumpout hose. (exhaust hose?) Repairing the knotmeter. Changing the oil filter. Changing the fuel filter. (Dammit, didn't bleed all the air out before starting the engine.) Putting the guide hose back onto the pipe in the centerboard trunk so the centerboard will raise all the way up. Redoing the connections for power and navigation lights for the knotmeter and depthfinder.

Spent a lovely Sunday morning at the Freeport Farewell Bouy as a friend of ours recently passed and his wife was laying a wreath with his ashes in the water there. Tried to sail home but wind too light to run DDW to home so ended up motoring to slip.

Lots of work done, not much remaining and not much remaining time.

_________________
Wayne
Master and Commander of the Sailing Vessel

Impetuous


I'm not a complete idiot, some parts are missing.
Subservient to no man except

SWMBO


Any day without dock lines is a GOOD day!